Please make your tax-deductible contribution to The Piano: Bach to BeBop as we present artists at the upper tier of the world music scene.

Mon Dec 11 at Mezzrow Jazz Club NYC
In Person or Livestream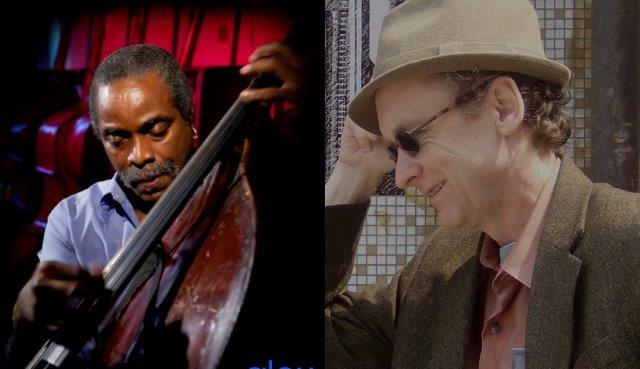 Burnett Thompson & Alex Blake
SEATED & LIVESTREAM TICKETS HERE

"music for the head and the heart" The Washington Post
"incredible virtuosity and inventive musicality" The Los Angeles Times
Join pianist Burnett Thompson and bassist Alex Blake for their annual performance at the iconic Mezzrow Jazz Club in NYC. The duo will launch "Inflection: 1650", revisiting music heard in the colonies of the 17th century. Tunes from Native Americans, Africans and Europeans alike will be juxtaposed for this date. The duo's audiences have come to expect unique and compelling interpretations of music from Asia, Africa, Europe and the Americas. A work in progress,"Inflection: 1650", will culminate in a CD and wider performances over the next year.
Burnett is forever indebted to the avant-garde, jazz, baroque, classical, romantic and modern eras, as well as Chinese traditional music for ideas, style and energy. Burnett performs regularly in venues in Lisbon, Prague, London, Berlin, NYC, Beijing, Shanghai and Kunming. He has produced series at Castleton in Performance, Piano Jazz DC, Jazz on Jackson Place, the Hill Center Concert Series, and Foggy Bottom Chamber Ensemble, perennially programming a broad swath of cultural influences.
Alex is a performer with an extraordinary playing style, a technique distinctly his own, and a unique, compelling sound. Alex Blake's stature is measured by the plenitude of masters who have called upon him: Sun Ra, Dizzy Gillespie, Sonny Rollins, Art Blakey, Freddie Hubbard, McCoy Tyner,Stan Getz, Harry Belafonte, and the Manhattan Transfer. Alex is a long-time member of the late NEA Jazz Master Randy Weston's African Rhythms.