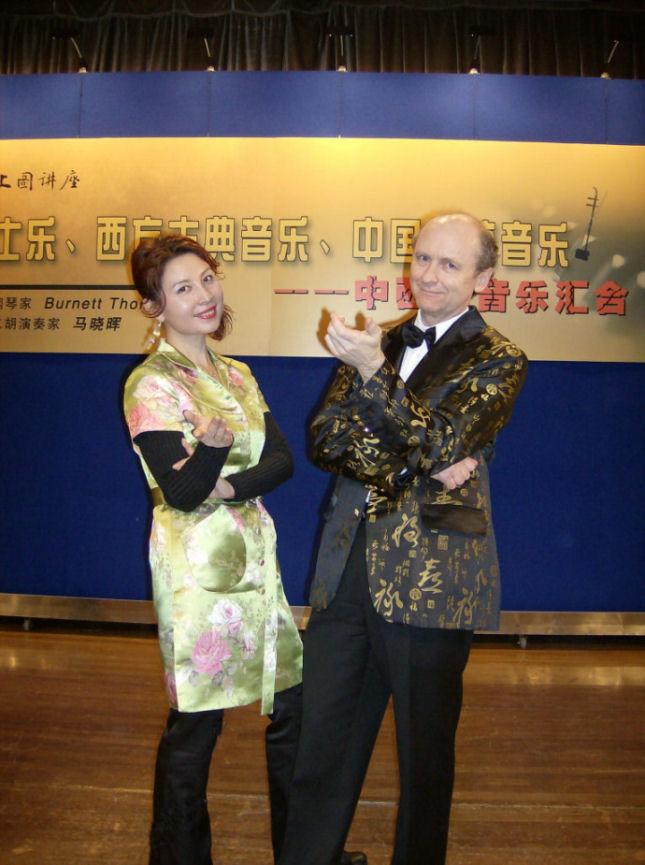 Ma Xiaohui, Erhu soloist
Burnett Thompson, Pianist
in Recital
Erhu Holding Hands with the World
Wednesday, June 18, 2008
Carnegie Hall
New York City
8:00 p.m.
tickets: Carnegie Hall Website
with Cellist Alexander Scheirle

Listen! The Deep Night Recorded live in concert.


Interview with CBC Radio Vancouver


Interview with Robert Siegel, National Public Radio on All Things Considered.
Ma Xiaohui and Burnett Thompson began their collaboration in 1999, hosted by the Kennedy Center for the Performing Arts. After a long hiatus, they returned to the Kennedy Center in 2006, followed by dozens of concerts and lectures in Vancouver, B.C., Washington, DC, New York City, Shanghai, and Chengdu, capital of Sichuan province. On Jan. 12, 2007 they appeared live on China Television on a worldwide broadcast. The Shanghai Oriental Arts Center presented two concerts by the duo in January of 2008. Their repertoire includes classical and traditional Chinese music, European classics, jazz and tango. They bring a truly original perspective to a broad view of music today.
About Ma Xiaohui
About Burnett Thompson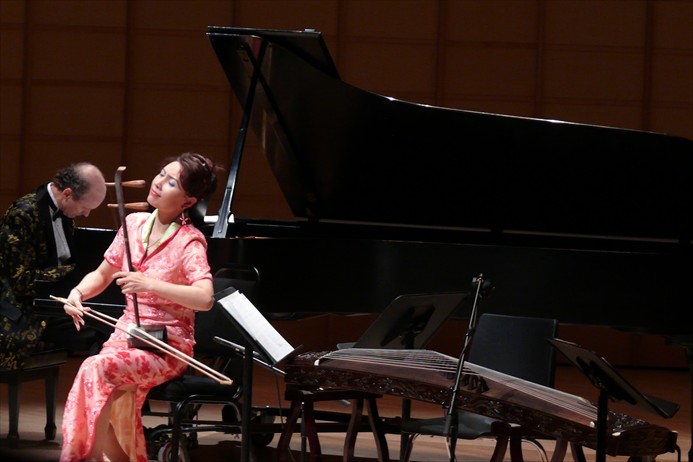 photo: Water Poon
History
June 18, 2008 In Concert: Carnegie Hall

March 31, 2008 JZ Club, Shanghai with Flamenco Guitarist Abraham Carmona

March 5, 2008 In Concert: Washington Chinese Music Society, Parilla Center, Rockville, MD

January 20, 2008 In Concert: Shanghai Oriental Arts Center, with clarinetist Kiera Thompson

January 26, 2008 In Concert: Shanghai Oriental Arts Center

Nov. 9, 2007 In Concert: Arts Club of Washington

Nov. 2, 2007 Lecture performance: Mount Vernon Historical Association, Mount Vernon, VA, USA

Oct. 20, 2007 In Concert: Chan Center, Vancouver, BC, Canada with Chai Man Chen, dizi and flute.

April 9, 2007 Lecture Performace: Shanghai Conservatory

Jan 27, 2007 In Concert: Jing An Cultural Center

Jan 24, 2007 In Concert: Hua Mei Cultural Center: Chengdu, Sichuan

Jan 20, 2007 Lecture performance: Shanghai Library

Jan 13, 2007 "American Jazz and Improvistional Music" Burnett Thompson with guest artist Ma Xiaohui, Jiao Tong University, Shanghai

Oct. 1, 2008 In concert: Castleton Theater, Castleton, VA

June 3, 2006 In Concert: Kennedy Center for the Performing Arts, Washington, DC

June 24, 1999 In Concert: U.S. Capitol, Washington, DC

June 23, 1999 In Concert: Kennedy Center for the Performing Arts, Washington, DC