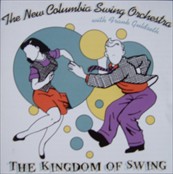 Kingdom of Swing
New Columbia Swing Orchestra
This important recording of the NCSO includes original scores by Benny Goodman as well as arrangements made exclusively for the the 16 member Big Band. New Columbia Swing Orchestra with clarinetist Frank Guldseth.
The tunes:
1. Board Meeting
2. Christopher Columbus
3. Gone With "What" Wind?
4. That Did It, Marie
5. Tommy Dorsey Medley
6. Is You Is Or Is You Ain't My Baby
7. Satin Doll
8. Pound Ridge
9. A Nightingale Sang In Berkley Square
10. Rag Mop
11. Benny Rides Again
12. You're Just In Love
13. The Sugarfoot Stomp
14. Dusk In Upper Sandusky
15. Footnote to a Summer Love
16. The Kingdom of Swing
"I grew up in the swing era and played this music the first time around. The sound of this band is remarkably authentic. Frank has captured the excitement and energy of a great era, with superb musicians and arrangements true to the day...with a classy touch of Benny Goodman thrown in . It's a kick being a part of it."
James Lester, author of Too Marvelous for Words: The Life and Genius of Art Tatum (Oxford University Press, 1994)