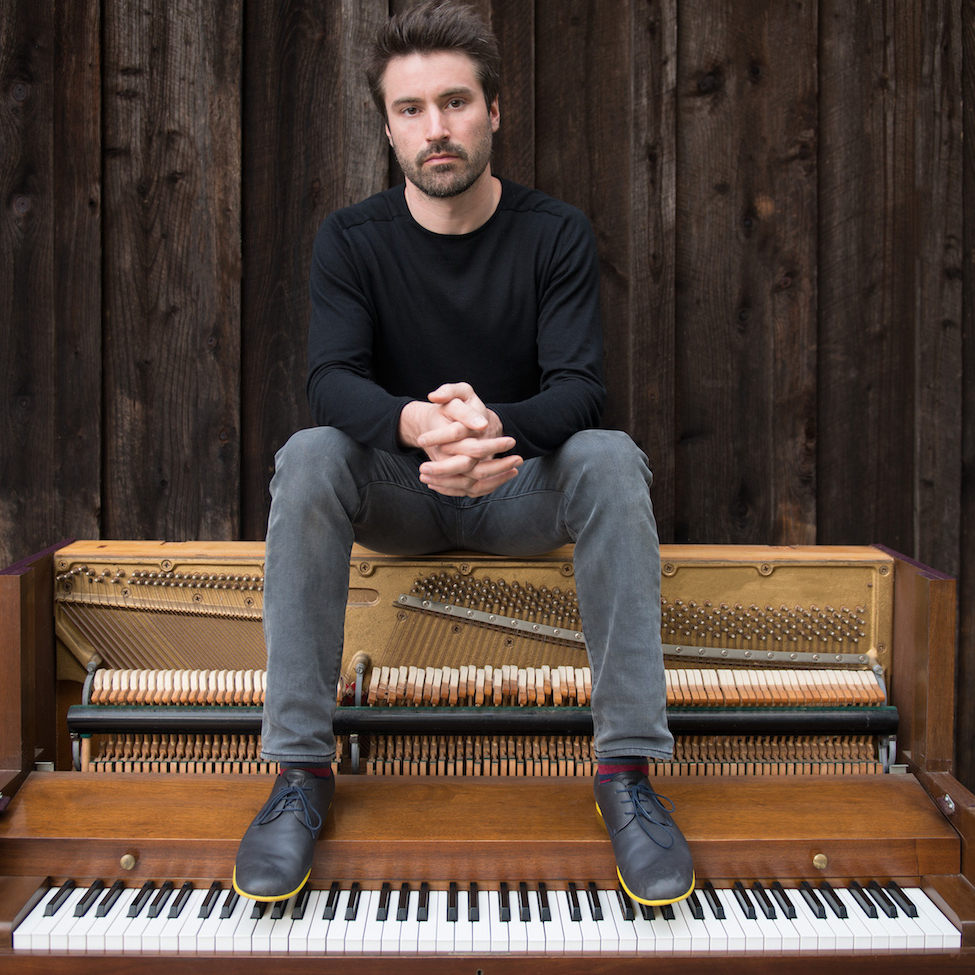 Dan Tepfer: Piano Jazz at the Arts Club
May 11, 2020: The Concert Reviews
Pianist Dan Tepfer closed out the 6th Season of Piano Jazz at the Arts Club, joined by the eminent bassist Jorge Roeder. Please enjoy the reviews and comments submitted by the audience. Subscribe to Dan on Youtube
"amazing, enjoyable, fascinating with the techno-literacy-artistry. my first 'attendance' at Piano Jazz at the Arts Club. Quite a treat to attend! Thanks so very much...keep the music going..." Margery Benson, Waynesboro, PA
"What a wonderful, marvelous, and positive soul-boosting experience to hear Dan Tepfer jam remotely with bassist Jorge Roeder (overcoming huge technical and latency issues) and share solos from his Natural Machines project that combines human piano improvisation, computer algorithms expressed on the piano and visuals. To hear and see and share such soulful creativity while we are social distancing is a gift during this bizarre era." Lindsay Drogin, New York, NY
"Thank you for the opportunity to listen to last night's performance. We enjoyed the duo performance particularly The sound was excellent. The only thing better would be to be there in person. " Judy W., Baltimore, MD
"A really special evening! Dan invited us in, with Jorge, to share his artistry and the techniques that he is developing to break down barriers for musicians in the era of Covid 19." Martha M., Chippewa Lake, OH
* " I thought it was cool that Jorge and Dan could make up endings together on the spot. I liked how Jorge could play so many high notes on the bass. Lastly, I wondered how Dan got the computer program to accompany him on the piano." James Hogans, Arlington, VA
"Great talent! What a welcome addition to Covid Era-related onscreen entertainment! Loved the casual format — it felt a bit as though we were in the studio with Dan and Jorge — and the spontaneous interaction between musician and on-line listener. More of these videos, please." R.M.K., Fairfax Stn, VA
" Really enjoyed the new experience of a jazz concert from my home! Excellent new music...hoping to hear of Tepfer again through you at the Arts Club." Linda Lippner, Arlington, VA
" This was a fabulous event. The initial piano/bass duets were impressive and beautiful, and the Thinking Machines improvisations (with graphics!) were breathtaking. I felt sorry for everyone who didn't attend it!" Perry Beider, Silver Spring, MD
" Thanks so much for putting together last night's show. Dan was great, and it was such a treat to hear the piano and bass together - god I miss live music. " Tiffany DeFoe, Baltimore, MD
" I'm delighted this concert was able to take place. While the duet portion needed a better technical set-up for the double bass audio, it was nonetheless welcome. But the solo portion, musically and visually, was outstanding. I'm wondering if there's a way to present it before an in-person audience. " G.O., Washington, DC
"Dan is nothing short of a genius! His piano technique is rooted in the classical tradition, and he possesses unlimited dexterity of fingers and mind. On top of that, his knowledge of electronics and all things digital is mind-boggling. As if all that weren't enough, he has a warm, inviting personality and an engaging smile. What a joy to listen to and watch my first Piano Jazz at Arts Club jazz evening!!" Ken Lowenberg, Potomac, MD
" What a great show. I was not at all bothered by any technical challenges and thought the sound/video were fine. Dan was masterful along with his bassist Jose and his computer. Very fresh music that made the stay at home a little more bearable. Will watch again before the week is up." Allen Perper, Silver Spring, MD
" I very enjoyed the concert of Dan Tepfler in the context that the format is new and the technical process is evolving. One hopeful outcome of the current pandemic is that such venues will be developed to the point where they may become part of the mainstream when we find our new normal. It is in this spirit that I offer my comments. Musically, the physical distance between the musicians appeared to be a factor for both musicians and certainly for me, the listener. Now on to the music. My initial introduction to Dans' music was only a week ago. I listened to a few of his pieces on YouTube and became intrigued by his use of combining acoustic piano with computer generated "accompaniment". Continued exposure to his work will help my ability to listen from a more pure musical standpoint, as I find myself trying to figure just how the computer is responding to his playing "input". I find the result reminiscent of late 19th century and early 20th classical compositions. Last night I found wafts of Debussy, Bartok, perhaps Stravinsky, and others I could not quite name. To me, this highlights the analytical nature of music in general. Intervals, chordal structures, themes and variation, all play out by applying cold computer logic to musical improvisation. The result is leaves me working thru where improvisation ends and cold calculated notes begin. With more listening, I hope to hear just the music. Dan Tepfer's explanations of his process are intriguing and the results are provocative. The nexus of art and technology has long been one of my most sought after pursuits, and his work presents a new opportunity for this interest. Thanks very much for choosing Dan's music in your concert offerings. " David Stricker, Newton, MA
"What a delightful evening! Dan and Jorge performed with exceptional musicality, playful inventiveness, and daring technological experimentation. Dan's musical prowess is extraordinary. His jazz improvisation reflects solid classical training. Yet he constantly seeks new ways to integrate a vast range of musical traditions and styles. He emerges with a blend that is uniquely his. Just wonderful. " Richard Woodrow, White Plains, NY
" Thanks for organizing the lovely concert. It was a fun mix of art, technology, and IT trouble-shooting. I'd guess fun was had by all? The effort was very worthwhile and I'd gladly attend future similar web-based events. " Stephanie Cooperstein, Potomac, MD
" Needless to say, Burnett, I can't wait to hear these two wonderful musicians live. What I always appreciate about your Jazz evenings is how wonderful it is to hear new artists whom my busy life has not allowed me to explore. Thank you.
Great concert! Dan, that was very brave of you to experiment live and it worked! Not only do you and Jorge play beautifully together, it is apparent that you are close friends and collaborators; it came through in the jazzy conversation between your instruments. Jorge, even if you did not actually play the bass but just stood there with it and smiled it would be music enough! I loved the imagination. The spontaneity. In a way it was more live than an actual live concert. And the ability to project the art of the music was magic. I have seen artists portray music in their work, I have seen musicians create art mimicking their fingering. But I have never seen the beauty of the computer projecting the piano, the computer response to the piano and your voice during the actual concert. I hope that you can carry that to your live performances as well. " Susan M Troccolo, Washington, DC
" I really enjoyed Dan's playing at yesterday's concert. Dan is always on the cutting edge, as I believe this is the first time I saw a concert like this with more than one musician! The fact that Jorge and Dan played in real time was amazing! So great when you can feel the interplay of two musical geniuses! Thanks for presenting." Jonathan Glass, New York, NY
" Excellent, delightful, informative. What a pleasure. Dan is a natural-born communicator, musically, intellectually and emotionally. " Julie Payne, Studio City, CA
* " I like how Dan made improv sound like a song. Also, Dan and Jorge sounded really good playing together. I thought the computer playing along with Dan was really cool. " Catherine Hogans, Arlington, VA
" * I liked tonight's performance very much. I think that the pianist was very creative and innovative and all of the songs were intricate and interesting. I especially liked the artwork that was shown along with the pieces, like the one where each note from the song represented a beat in a circle. I thought that it was very cool that he was able to play so freely and still sound very professional, and I thought that all of his pieces sounded like he put thought into them while he was playing, even if he was improvising. I hope to hear Dan Tepfer's music again another time." Shima Harrison, McLean, VA
"I was impressed that both the piano and bass players were able to play together online. I did not notice any delay in the sound. The program that improvised in real time was also very cool to listen to. It's something I've never seen or heard of before. Overall the livestream was very well run" Scott McDonald, Fairfax, VA
"Since you could not hear me clap I want to thank to all the team and the artists for the show yesterday. I knew about Natural Machines and obviously was delighted to listen to some pieces, but also I liked to discover Dan and bassist Jorge Roeder, how happy they were playing together, to echo our happiness of listening a nice twist to end a piece , or just chatting with the 'audience' ". Paulette Castel, Washington, DC
"I truly enjoyed the concert. I just recently found Dan on Facebook and have truly enjoyed his videos that he has posted during the COVID time. Dan mixes wonderful interpretations of "Standards," other jazz classics and I truly like his own compositions. This was a unique concert, possibly opening up a "brave New world" of another means of artist-fans/ audience interface. It was unique that this was a paid concert, a normal event in the past but so different this time as a live video concert. Dan's embrace of technology used in his collaboration with his bassist partner opens up new possibilities. I enjoyed Dan's conversation with his fans/audience. Obviously,I was happy with this concert and it was certainly worth the price of admission. In fact,it was a bargain. THANK YOU to ALL involved. " Frank Gruye, Bridgeport, CT
"His hookup with Jorge was perfect. They're very sympathetic. He certainly enjoys what he's doing! He was very relaxed. The arrangement with the computer that causes it to play along with Dan is remarkable." D.S. Winchester, VA
"On Day 58 of our lockdown at 7000 ft in a part of the world most people only know for its proximity to the Grand Canyon, we were treated to the talents of bassist Jorge Roeder and pianist Dan Tepfer taking us to another kind of elevation, live from far-off Brooklyn. Though never a huge fan of bass as an instrument, this concert changed my mind; I found myself feeling sorry Roeder's segment wasn't longer. In the solo portion of the concert, Dan Tepfer—whose Monday improvs have become a weekly counterbalance to newscast blues— gave the virtual audience a real Gesamtkunstwerk: jazz improv combined with what could be described as Fantasia meets Dada visuals. Tepfer's skill is only exceeded by the obvious joy he takes in sharing his own musical discoveries. Thank you to the Arts Club of Washington and Burnett Thompson! Marilya Veteto Reese, Flagstaff, AZ "
"The online concert by Dan Tepfer and Jorge Roeder on May 11, 2020 was an interesting and exciting way to enjoy the great music of these two inspiring musicians. I've seen Dan several times in concert in the last couple of years, once with the late, great Lee Konitz, and once performing his mind-boggling Natural Machines show, the latter in a Planetarium, no less. Of course, the music was the essence of the online concert yesterday. Dan's playing on both standards and wholly improvised pieces was beautiful. I look forward to some more of these duos as the technology advances." Chris Carter, Portland, OR
"Dan Tepfer is an extraordinary talent and the combination of the music and visual displays produced by his playing and the computer algorithms was beautiful. As a lifelong computer nerd I found this fascinating, and I played parts several times. I will look for more of this. Thank you for producing this!" Jack Crosby, Highlands Ranch, CO
" We loved both parts of the concert—Dan Tepfer playing with Jorge Roeder—excellent musicianship—and Dan using the disklavier and generating the art/graphics. This part of the concert blew us away! We appreciated Dan's commentary on the live streaming and the making of the disklavier music and art. Thank you to Dan, Jorge, and the Arts Club!" Mike Koempel and Dianne Hunt, Takoma Park, MD "
"I thought the concert was exquisite and inspirational. As a frequent and appreciative in-person participant in the Piano Jazz series at the Arts Club, I never thought a virtual concert could come close to replicating those magical evenings. But this one did, largely because, of course, of the talent of Dan and the value added by Jorge. Dan's playing was superb and it was made more so by his gentle and absorbing connection to his virtual audience. It was an honor to witness and experience it." Toby Moffett, Washington DC
"I really enjoyed the piano concert, which I found very intimate yet participatory. So much talent and creativity with music!! Thanks for the opportunity. I hope we can see him live in the future!" Kate Baker, Tilghman, MD
"Thanks for introducing my family and me to this wonderful creative musician! His jazz piano was fantastic and what a delight to "see" the music during the second half of the performance. Can't wait to see and hear Dan Tepfer again. " Karen La Du, Washington, DC
"Dan is an extraordinary pianist. Love just everything he played. The play with the algorithms was fascinating and reminded me of the old Disney film, Fantasia! We (Dick and I) really thought Dan to be an amazingly talented pianist and enjoyed the venue into the computerized loops and sound patterns. Being of a certain age, we both think most piano performances are best enjoyed as straight instrumental music/tunes. Not sure we would want to see the computerized algorithms added into every concert performance. However, this first intro to the algorithms was most enjoyable. And watching up close and personal, appreciated how much Dan was enjoying his concert!" Nancy Flinn, Phoenix, AZ
"Thank you for presenting Dan Tepfer and Jorge Roeder in concert the other night. I watched Dan's regular livecast earlier that afternoon and when he promoted this additional, live performance I thought "I can support that" and bought a ticket. I was not disappointed!
Dan and Jorge were a joy to watch and listen to. They know each other so well and really collaborated on the pieces that they played. Dan is a natural host and filled time between songs with interesting and relevant information about the technology used and the artistry that was presented. Dan's solo performance in the second half took things to yet another level, and even though I am not particularly open-minded about "new music" I found his compositions and performance very compelling. The concert drove me to purchase and download two albums as a result - Natural Machines (Dan's most recent) and Before the Storm (the 2004 recording from the Dan Tepfer Trio).
Again, thank you for presenting this unique and wonderful concert. I can't promise that i'll "attend" every one that you hold, but certainly the online technology has proven itself capable of addressing the limitations that come from the current pandemic. That opens up some interesting possibilities. Brad Ricker, Madison, WI "
" Bravissimo!. Dan is such an engaging host that he eases you effortlessly into all kinds of collaborations--initially with the lovely bassist, Jorge Roeder; then, obviously, with his piano as a soloist, but more remarkably, with his computer, from which he coaxes extraordinary performances that become both audio and visual collaborations. And finally, and most surreptitiously, he induces the most important collaboration of all, the collaboration between a performer and his audience. Utterly charming, engaging, compelling, seductive--and accomplished. Brilliant!" Robin Hirsch, New York, NY
I'd heard Dan "way back," at Twins? Kennedy Center?, and had looked forward to his return to DC. Wish that had been possible, but evening that would have been somehow felt as warm and fine online. Talent and charm can do that — pity the two couldn't hear the applause. " ER, Washington, DC "
The livestrreamed Dan Tepfer/Jorge Roeder duo jazz was fun and good listening. The livestreaming gave an almost "I was there" feeling. But Dan saved the novel treat for the last third of the concert with an eye-opening musician/computer programmer demonstration of outstanding music and great visual effects. I loved it!" Sandy, Silver Spring, MD
"Wow. The whole production was terrific. I liked Dan's playing going in, but this was, to my uneducated observation, so innovative and such a pleasure to see something new.... especially from home broadcast that worked well. I particularly liked Dan's solo last part, starting with Inversions and keeping with the computer compositions to the end. I hated to see it end. I hope he will get scheduled live again at the Arts Club for whenever the Arts Club of Washington re-opens." Judith Nordin, Alexandria, VA
"Dan is perfection all the way, and more left brain brilliance, but highly refined and inexhaustibly interesting!!! He ALSO has impeccable rhythmical instincts. Ultra perfect! I love his music and also his persona. He is fully engaging in a very self-contained way. He orbits in his own orbit!" M. Ackerson, Bloomington, IN