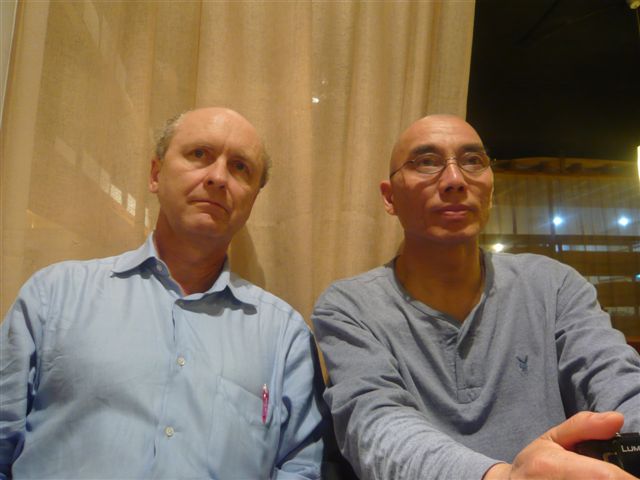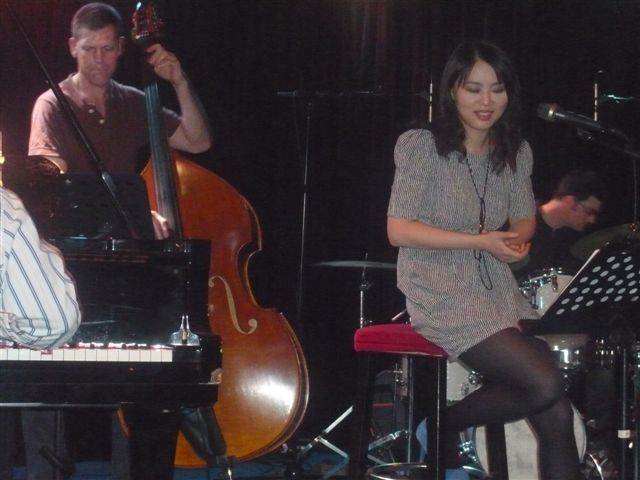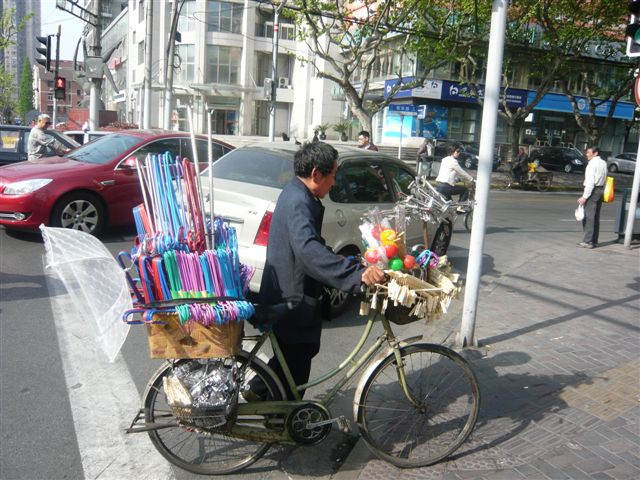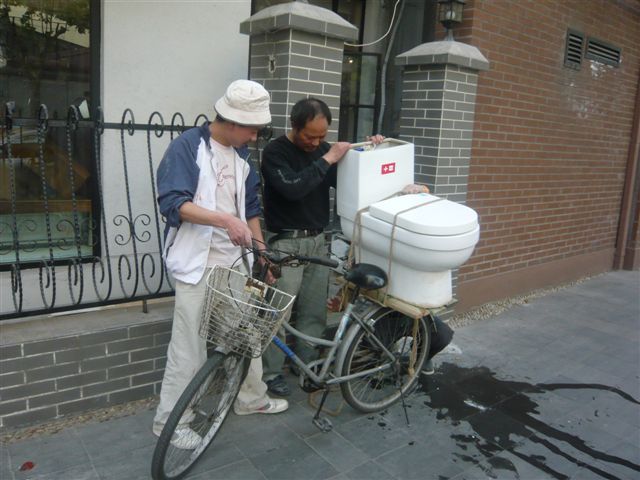 Last night it was a new, and now my favorite, restaurant called Lucky Zen & Veg, a Bhuddist restaurant on Ma Dang Lu.  I was the guest of my very good friends Zhang Cong Mei and Ai Ling, and we had a feast.  Everything from the orange blossom tea to the soup, mushroom and cashews, limas and cashews, hot pepper beans and filo tofu, shredded filo tofu with ginger, etc, etc.  Very delicate, light, and wonderful flavors.  
Later stopped by JZ to hear my current favorite talent, Joey Lu.  Joey is an exciting pianist, a confident and stylish singer.  I can't say I've seen anyone recently with her presence, bandleading ability, vocal talents, and immaculate command of the piano.  Of course, she had the  'super trio' behind her of Sean Higgins, Mike Hicks and the Chris Trzcinski. 
There is always something to see in the street here, and the moment can be so intimate, that I hesitate to take a photo.  I got past that for the "toilet on a bike" scene.  Convenience is everything in China, so why not a loo on the bicycle?  Save those time-consuming roadside stops.
My hotel, the Yesinn, is under renovation.  So I am in a construction site.  I've stayed here for 5 years, and don't have the motivation to leave.  There are a handful of people still staying there, and we eye each other nervously in the elevator, wondering  what kind of person would remain in such a dreadful environment.  But aside from the wet concrete on the hallway floor, the power tools on the steps and the jack-hammer at 7:30 a.m. sharp, what's to complain about?
photos:  BT & Zhang CongMei, Mike Hicks, Joey Lu, Chris Trzcinski, Sean Higgins' elbow, bike vendor, bike loo