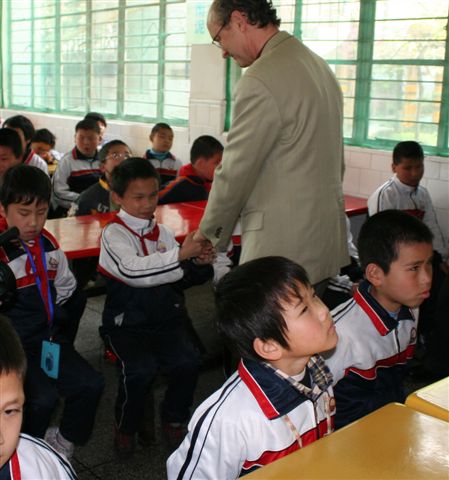 Where to begin.  April 9 started with a visit to an elementary/middle school for blind students in Wuhan.  The kids were divided by class, and there were about 15 kids in each class, 120 or so total.  There was a delay, and the kids started entertaining all of us by singing, first the lowest grades, on up to the highest.  They were completely uninhibited and sang with enormous emotion and enthusiasm.  They were also 100% on pitch.  Eventually two of the older kids stood and sang pop songs with beautiful voices.   I am not going to begin to try to convey the emotional impact of this scene.
There was no translator for this date, so I was on my own with my Mandarin.   It was a very different experience, one that I've not had, to play for an audience who depends 70% upon their hearing.  I became very attentive to detail in my playing, and even when making mistakes, I made sure it was very articulate.  I tried to make as many sounds, different shades, gradations of volume, pedaling, etc, that I thought would be attractive to their finely tuned ears.  As a group, they were extremely enthusiastic about the music.  Eventually I invited a young man up who played a lengthy, highly arranged, and seemingly improvisatory arrangement of the great Abing song, Er Quan Ying Yue.  He played very sensitively, and deliberated over the  melody's iterations in a thoughtful way.  He must spend hour after hour playing the piano.
The performance was concluded with a massive pizza fest.  Apparently these kids had not eaten pizza before, so this issue was corrected by Pappajohn's Pizza who sponsored the whole occasion, including bringing in the tuned piano and making all of the logistical arrangements.   We had a great time, and I enjoyed speaking for a few moments with many of the kids.  They were just so very happy…listen to Take 5 from the school performance.  One of the teaches grabbed me by the arm and said, "You know, music is the only color they can see".
We then moved on to a home for senior citizens.  Again, a well tuned piano and beautifully made banner.