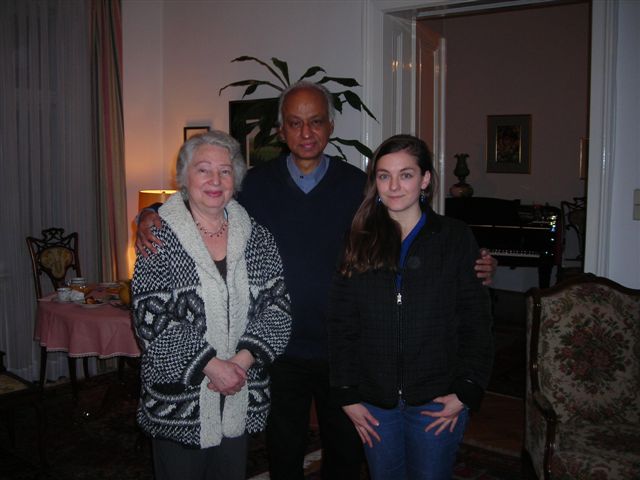 The other day, I had the distinct pleasure of a long (3 hour) lunch on the Graben with the teacher who had the greatest influence on my performance style, Professor Noel Flores. We hadn't met since a brief coffee in 1977, and had some serious catching up to do. His wonderful wife joined us as well, and we did a quick review of the last 30 years.
In the fall of 1973, after 2 semesters at the Hochschule fuer Musik in Vienna, I was foreseeing some mechanical difficulties with my piano work, and I began work with Mr. Noel Flores. (See bio info)Mr. Flores shortly thereafter became professor at the Hochscule, and continues as an emeritus faculty member.  He also keeps a busy schedule adjudicating the major competitions throughout the world.
But at the time, Mr. Flores was teaching private students and became famous for solving mechanical issues and matters of physical health related to performance. In short, he helped performers resolve tension problems, problems that could lead to severe pain and even end a career.  More than that, his view was that  the musical experience as a whole would be far more facile by ending self-imposed physical restrictions.  We worked together for a year and a half, and in the meantime, I left the Hochschule after 3 semesters and worked only with him for a year or so.  Lessons were 2 ½ hours long, twice each week.  We worked on very little music, focusing almost exclusively on the most basic aspects of motion and weight distribution.  Years later, when I was sitting at the piano for 10 hours or more each day, year in and year out, it became obvious that I never would have lasted more than a few months without the work the Mr. Flores did with me at the time.  To this moment, as I sit and type,  I use what I remember from those classes.  Currently I am preparing the Brahms Piano Quintet (last performed in 1988) and spend much of the time eliminating "overwork"  and sections where the music is obscured by problems of execution.  One thing I always do is take a difficult section and eliminate the elements that make it difficult, just to see what it sounds like when it is easy! 
photo:  Mrs. Regina Flores, Prof. Noel  Flores, Kiera Thompson.  Nov. 2009