Erhu soloist Ma Xiaohui visited Washington, DC for two weeks in November, 2007.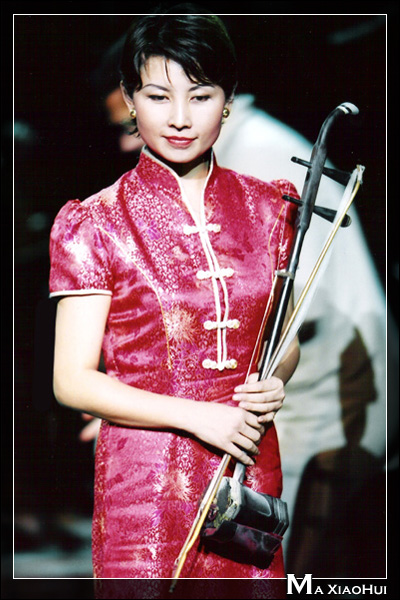 She made four public appearances and her visit was covered extensively by Chinese and American press. 
National Public Radio features her on the front page today.  The website hosts her INTERVIEW with Robert Siegel on All Things Considered as well as  two video interviews.  According to NPR, she is the first musician to appear in their new video format.   The interview was aired yesterday, Nov. 26, 2007.  Listener feedback
Ms. Ma's first appearance was at the George Washington Symposium on Nov. 2, at Mount Vernon, George Washington's home.  The music of the White House was the topic, and she performed music of Ellington and Kreisler, illustrating the links of President Nixon and Isaac Stern to the development of Chinese-American relations. 
On Nov. 9, Ms Ma appeared in concert with yours truly at the Arts Club of Washington.  This concert was reviewed by Paris Huang of Sing Tao Daily, (the largest Chinese news service) who also saluted her in a feature  article.  Also appearing on this concert were cellist Christopher Hsing of the American Youth Philharmonic, Tango specialist Ponti Del Mercado, and clarinetist Kiera Thompson.  The Program.   (Photographer:  Chia-Chi Charlie Chang.)
Her final appearance was at the GMU Center for the Arts with the American Youth Philharmonic, Luis Haza Conductor.  Repertoire included her composition, "Spirit of My Erhu", "Shepherdess in the TianShen Mountains" and "Horse Racing in the Grasslands".  The encore was the Love Duet which she had performed in the movie, "Crouching Tiger, Hidden Dragon" with Yo-Yo Ma.  The cellist in this performance was again Christopher Hsing.  Attendance:  2,000, the largest AYP attendance in its 30 year history.
WPFW Radio featured Ma Xiaohui's recordings on Tom Cole's G Strings show on Nov. 4 and Nov. 11. 
The World Journal wrote a feature article and the Washington Chinese News also posted a feature.  All of her performances were filmed for an upcoming documentary feature.  More to follow on that subject.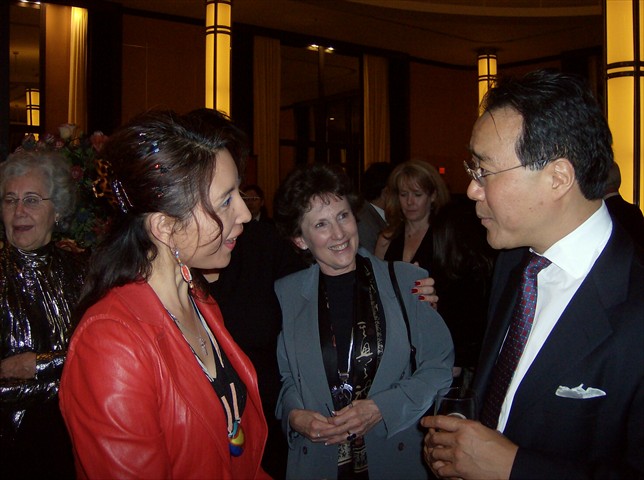 Yo-Yo Ma chats it up with Ma Xiaohui at the Kennedy Center, 11/12/07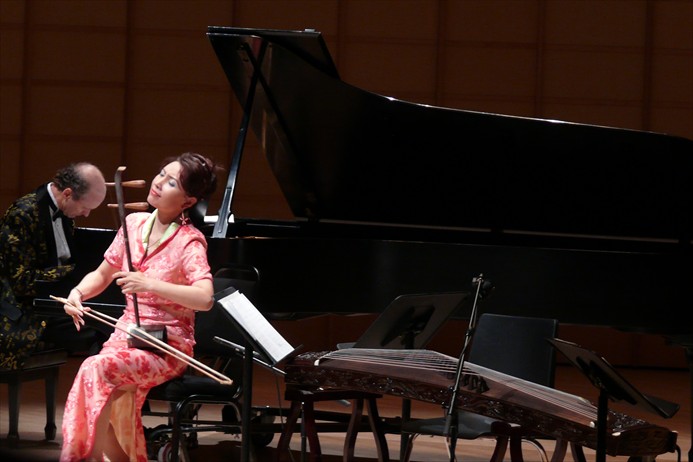 Ma Xiaohui & Burnett Thompson:  Chan Centre, Vancouver. 10/20/07
 photo: Water Poon