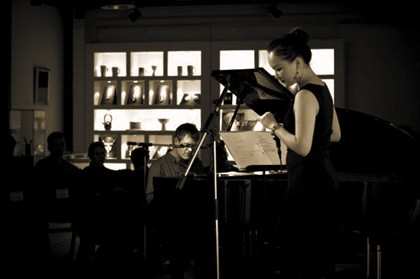 At Two Cities Gallery in Moganshan Lu, I stopped by to hear vocalist Jasmine Chen and my friend  pianist Steve Sweeting on March 28.  The Gallery was jammed, and I couldn't even get close to the stage, but I did get a good idea of just what the performers were aiming for.  It was Shanghai eclecticism at its best.  It had a whiff of Barbara Cook with Wally Harper, the legendary duo of the 80's and 90's, with a relaxed, unhurried walk through thoughtful and unfamiliar repertoire.  Well,  unfamiliar because half of it was composed and written by the performers themselves, including Jasmine's  new lyric for the Paul Desmond classic, Take 5.   Jasmine sings with a calm and pure understatement that allows the song to speak for itself. The audience loved this performance.
PROGRAM
莫愁湖边走 Mo chou hu bian zou:  Describes  Mo Chou Lake, (Chinese: "don't be sad and worried,")  the writer is  walking by the lake, where everything is beautiful and where one may forget sadness. (more…)
May 23, 2008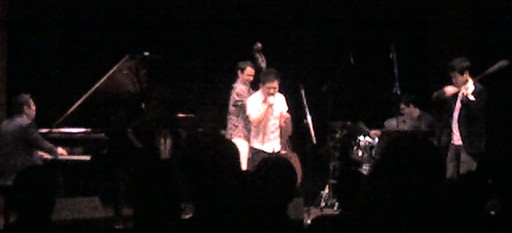 Coco Zhao, Peng Fei, Huang Jianyi, EJ Parker and Chris Trzinski paid a visit to Washington for a concert on May 3.  Emceed by our friend Larry Appelbaum, the concert was a reminder of the finesse and power of this fine band, somewhat eponymously named Possicobilities.  Almost as gratifying was our sightseeing trip around DC, including an exciting adventure downtown which you'll have to inquire of the band to get the whole story.  Hopefully DC is second or at least a third home for Coco, et al, and we are already planning a return visit.  The concert merited an article in the Washington Post.  The visit was entirely too short, but a welcome breath of Shanghai air!  The illustrious Mark Elliot accompanied the group on the tour which started in Toronto.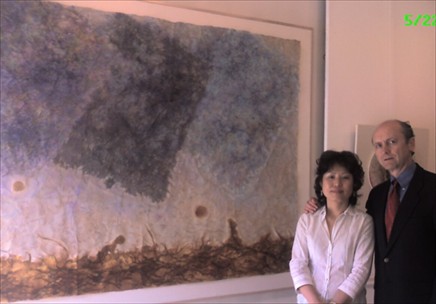 Sangbok Lee is showing her works Georgetown Art Gallery in Washington, DC.  In her words:  "In recent years most of my paintings have been developed by using modally abstracted images. These images have been developed from my traditional value of Nature which is based on the far Eastern Asian culture. I believe that I have developed a style which is unique for producing these abstract images using Hanji, a Korean traditional paper that has several hundred years of history.  My feelings are expressed in the delicately spreading colors and the creation of textures, and spiritual contemplation is expressed on my canvas."
I had the pleasure of visiting the gallery yesterday.  Indeed, Sangbok weaves a delicate, sinuous web, a highly refined style to express simple philosophical concepts.  Her works are meticulously crafted, with subtle use of color.  The website photos do a good job of representing the variegations in the paper, so have a look.