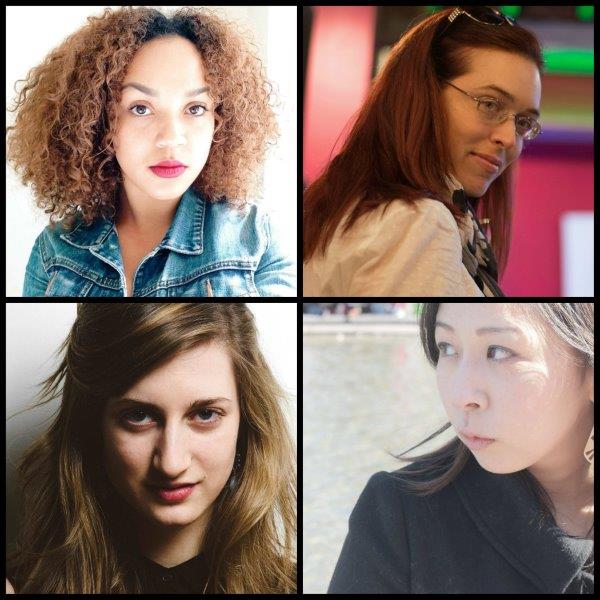 foto credit top L-R: Savannah Harris, Tom Williams, Una Stade, Christopher Baliwas
Next at Jazz on Jackson Place
Thursday, July 9, 2015 at 6:30 pm
White House Historical Association
Decatur House Museum at Lafayette Square
BT: Shannon, you are coming at the modern music world from two contrasting directions: teaching music technology in public schools yet leading a big band in which 15 musician blow into instruments or manipulate them with their hands. Let's start with music technology. What are your students learning?
SG: I teach two levels of music tech - the first level they learn synthesizers, light recording, podcasting, and film scoring. The second level is like an introduction to audio recording class, with lessons in the sound board, physics of sound, basic electronics, and a little bit of mixing and mastering. We also talk a lot about the music industry, and how the changes affect them and what they can do about it in the future.
BT: The big band jazz orchestra is now at least 90 years old, and repertoire spans from early Ellington in the 1920's to Benny Goodman, Stan Kenton, Bob Mintzer, and current arrangers working today. What is the role of your band in this broad spectrum?
SG: The mission of the Bullettes, my all female big band, is to encourage women in jazz and to give them a safe place to foster their talent and network with more established musicians. We play standard repertoire as well as our own originals and arrangements. There is a lot of hidden talent in DC, and I'm happy to help out and promote those who are writing and playing.
BT: Who do you like in the current big band arranging arena?
SG: Would you be willing to replace paragraph three with this, at some point? I'm sorry I did this in a huge rush.
I really dig all formats of large ensemble jazz music. This includes the big band tradition as well as some of the more non-traditional settings, such as vibes and adding additional instruments such as horn or tuba or electronics. At some point I'll focus in on that for the JazzCast. Until then, I'll listen to Darcy James Argue's Secret Society from NY, Mace Francis Orchestra from Australia, Elliott Hughes' music (also Australian), and our local heroes such as the Jonathan Parker Octet, Billy Wolfe and the Composers Tetra-Dectet, Reginald Cyntje's Ensemble, and Tim Whalen's Nonet. I had Tim Whalen's music on rotation for about a month after I interviewed him for my podcast - I had no idea he wrote like that, and love his septet and nonet writing. Other notable arrangers and composers from the Bullettes include Leigh Pilzer, Anita Thomas, Sarah Hughes, and Jen Krupa and am looking forward to when they can put out their own large ensemble albums. I also love Alan Baylock's arrangements and Mike Tomaro's stuff as well. Alan and Mike have taught me everything I know about big band arranging through my participation in the National Jazz Workshop over the last 6 years.
BT: We would be remiss to not mention that Shannon Gunn and the Bullettes is an all-women orchestra, with the occasional stray male. How did that concept get started?
SG: Basically, the band started as a dream while I was in grad school at GMU. I took Leigh Pilzer out to coffee and picked her brain to see if we had the personnel here to do it. She got a bunch of her friends on board and we decided to do a recording up front to try to get some gigs. I did a Kickstarter and was able to raise the full amount ($1500). We released it at our first concert in 2011, which was through the Reunion Music Society out of the Annandale campus of Northern Virginia Community College. Since then we've been heavily involved in the Washington Women in Jazz Festival as well as various venues in the area.
BT: You regularly perform with the Bohemian Caverns Monday night orchestra. How has that experience affected your current musical aspirations?
SG: The BCJO has been absolutely instrumental (pun intended) in networking and keeping up my reading and playing skills. I love that band and enjoy every minute on the bandstand.
BT: There is clearly a tighter relationship with the New York scene over the last 10 years or so. How has that affected you?
SG: With the $1 Megabus and all the bus competition that ensues, musicians can come and go pretty easily and quickly now. People are generally pretty hospitable, even with the small apartments they live in. Miki Yamanaka let me stay a couple of nights last summer and she was really helpful in introducing me to a lot of people. I am happy to call on someone from New York if I need them and show them around. A lot of cats have grown up here and then moved up there as well.