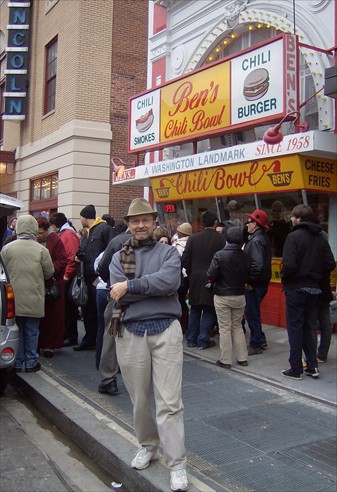 The Inaugural on Jan 20 was a 5 day drama, ordeal, celebration, depending on what your role was.  If you were a military musician, it was an 18 hour day, most of it in 25 deg F with a stiff 15 mph wind in your face.  A couple of members of the New Columbia Orchestra were actually on the reviewing stand.  They offered the first  report that Yo-yo Ma, Itzhak Perlman and Anthony McGill were lip-sync'ing, a fact that created quite a stir in the press.  But they had no choice, since the weather would have destroyed their instrument in about 2 minutes.
For me, the work began on Friday, Jan 16, when I did the initial load-in for the a couple of our events.  The load-in was completed Sunday and included a stop for a photo shoot at Ben's Chili Bowl.  You couldn't get into the place because of the mob, but the mood was enthusiastic.
Our first event was on Jan 19 at the office of what may safely be described as a prominent Chicago law firm. The guests included Senator Durbin, numerous city mayors, and the about-to-become-governor Quinn, who was even then patiently awaiting the disintegration of Rod Blagojevich.  It was Greg Twombley and Eric Wheeler for this one, and it was a good prelude for things to come.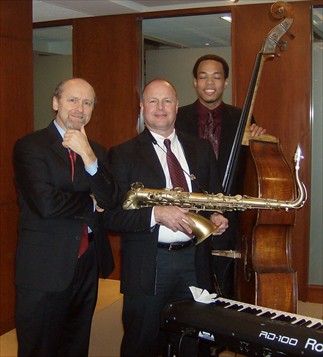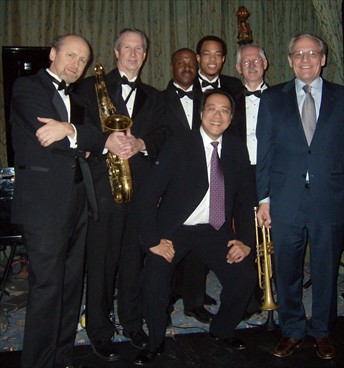 That evening we were at the Fairfax Hotel for what was billed as the hottest ticket in town.  Bill & Hillary Clinton were there for most of the evening, as were Jessica Beal (why didn't I get a photo of her?), Natalie Portman (in the photo with Hillary), Charlie Rose, both Woodward and Bernstein, Henry Kissinger, Tom Brokaw, etc. etc.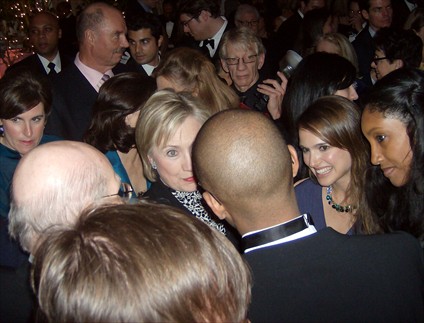 The personnel were Pete Barenbregge, Rick Lillard, Ken Rittenhouse, Eric Wheeler and Phil Matthieu.  All but Phil are in the photo which shows Yo-Yo Ma doing the limbo while Bob Woodward holds the trumpet. Photo:  Vernon Jordan with the band.