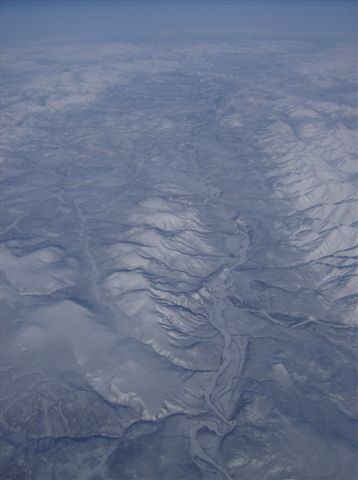 left:  Siberia on a clear day from United Fl.835
A couple hours after landing at the airport (March 29) , I arrived  at my favorite hotel in Shanghai (few would call this their favorite:  it's a small unrated hotel.  I am in the luxury suite at 256Y -$35-).  Luxury means a "wood" floor, double bed, a desk, chair, two lamps, modern bathroom, a tv and space  to hang about 15 items. 
I take the maglev, subway, and taxi to the hotel.  Maglev takes a few minutes for the main 25km run from the airport to the city, and the subway is 10 stops from the hotel neighborhood, followed by a 5 minute cab ride.  The catch is that, like New York, the subway is not luggage-friendly.  You often find yourself carrying bags up flights of staircases and being required to pull them through turnstiles.  Now mind you, the maglev and subway are relatively new, very clean, and operated smoothly and efficiently.  But the luggage thing really is an unwelcome exercise after all the flying. 
I reached M. E., booking manager for the jazz club, and he was coincidentally quite hungry.  Thus began a trip to Southern Barbarian, a popular new Yunnan cuisine restaurant.  The roasted fish was the star of the dinner, accompanied by fried goat cheese, bok choy, sautéed flower buds, grilled eggplant, fried noodle platter, etc.  They also had a pricy European beer menu.  I chose the Qingdao at 18Y, already too pricy for my wallet.  I pride myself on going to the local restaurants where feasts like this one run $10 for two people.  This is not one of those restaurants.  We split the tab 4 ways at 120Y per head.  We were joined by trumpeter JQ  and friend J.  I wanted to hear about Expo, and got the preliminary judgments:  October will be the biggest month, hosting 30M people.  Logisitics are impossible to predict, and there are big plans that will fall into place at the very last minute.  Or not.  It is believed that this will create steady work for the musicians, since hundreds of corporations and countries and hosting a relentless parade of entertainment for 6 months.  However, reading that not even long umbrellas and bottled water will be allowed through security, I am just imagining what a keyboard or double bass will invite in terms of sheer hassle of transport.  Of course there are already stories about the usual official top-down approvals and the lack of communication, verification, for which the powers are famous.