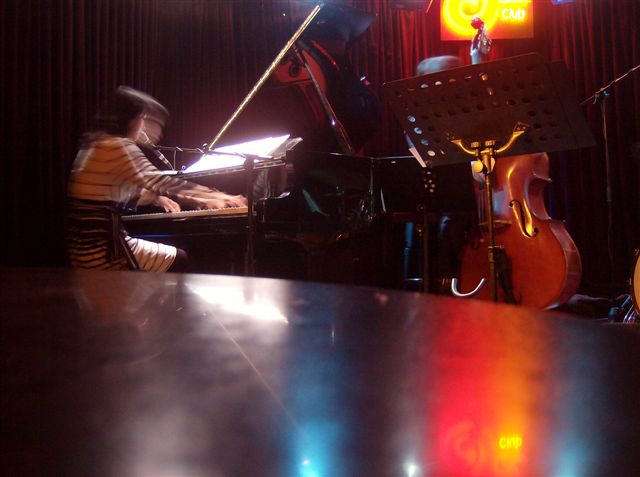 left:  Joey Lu at JZ
Dinner was followed by a trip to JZ Club.  Pianist/arranger Joey Lu was performing with EJ Parker, Wilson Chen on alto, Hu Dan Feng on trumpet, Alec Ritz on drums.  In short, they sounded great, and Joey delivers the full package as vocalist, pianist, arranger and band leader.   She is versatile, and the arrangements that she made or borrowed were fun and energetic. Wilson Chen gets better and better every time I hear him.   He also played Ewi  and sounded just as fabulous as on alto. 
B.D.  stopped by, as well as violinist/composer Peng Fei.  Peng Fei announced that he's won a couple of awards, both for compositions and for production.  I am presuming that the Expo is going to be an absolute goldmine for Peng Fei.  There was an after-party at a French expat's house/art gallery.  Three guitarists were already there:  V, Etienne, and Jeremy.  There was a spread of cheeses, meats, bread and Italian wines that extended the evening in a joyous fashion until almost 3 a.m.  Etienne and Jeremy grabbed instruments and rolled through Cherokee and Bluesette in a casual virtuosic fashion.  They and EJ have a working band, Wayne's Basement.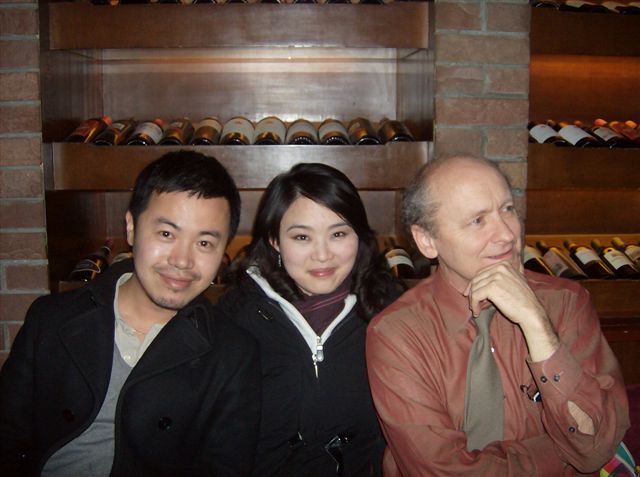 right:  Peng Fei, Joey Lu, BT. And the JZ wine cellar.
below:  Etienne & Jay of Wayne's Basement