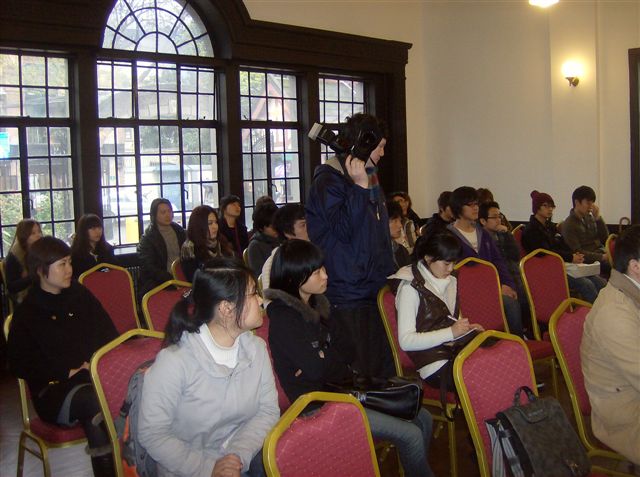 Next stop was the Shanghai Conversatory Prep department.  We were actually met by several jazz students from the upper conservatory, and other undergrad piano students.  I also had the pleasure of meeting   the jazz piano professor at Shanghai Conservatory.   Again very penetrating questions, but largely from faculty rather than students.  There was interest in the divide between white and black culture in the U.S. and how jazz made it's way through the American cultural stream.  In general, I always feel as if I am of some general utility, since the function of the lecture is to look at the roots of American music in the early 19th century and how the threads of  New  Orleans music were firmly entrenched 100 years before the flowering of the American jazz culture.  I was joined by two erhu players from the school.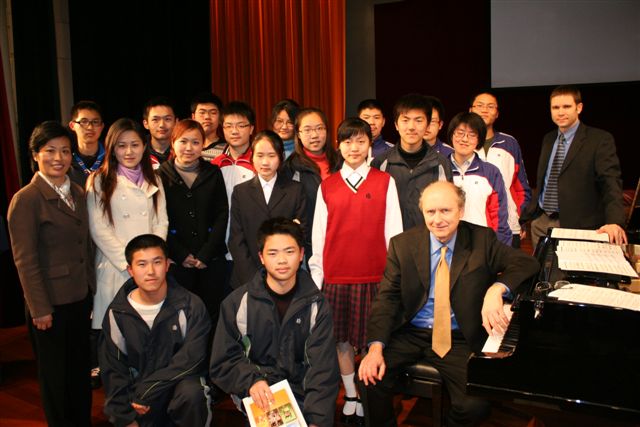 The last stop of the day was at the remarkable East China Normal University High School 华东师范大学第二附属中学。About 450 high school students filled the hall.  This is a bi-lingual school, and I presented the lecture in English with no interpreter.  This was by far the most enthusiastic audience and the Q& A would have gone on for days.  I was joined by Kelly, a young erhu player.  I was introduced by one of the students, Pei Li, who spoke eloquently in English to this large assembly.  One is always impressed by the respect, inquisitiveness,  and sincerity that these kids demonstrate.  It never fails to move me deeply while working  with students here in Shanghai.
Photos– upper: Shanghai Conservatory and prep students and faculty.
below:  East China Normal Univ. H.S.  The erhu player, Kelly, is center.  To her right in red is Pei Li who gave the introduction. Far left is our gracious host for the day, Hong Yan Fen.