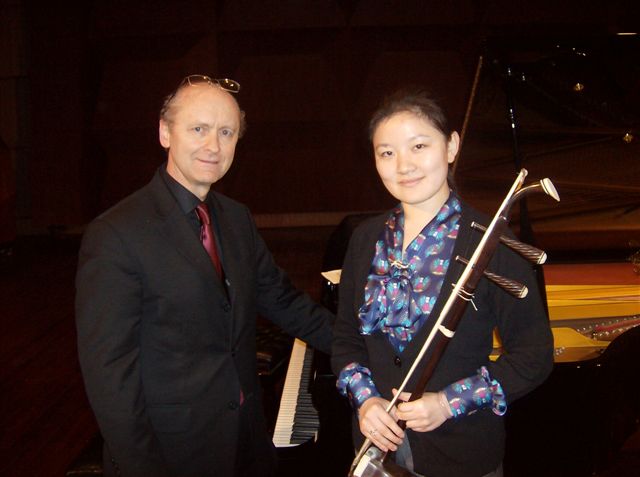 Left: Erhu professor Ren Jing.
Jumping heat:  la de tiao.  Very, very spicy frog legs, a specialty of Wuhan.  I highly recommend it.  It was gourmet cooking at its best and one of a parade of featured entrees last night as guest of Wuhan Music Conservatory.  The lotus root soup was also memorable, another Wuhan specialty.  (In a hurry, so will leave more comment later…)  This marvelous repast was hosted by Professor Jiang, Dean of the Piano Dept. 
The lecture and classes, both at Wuhan Conservatory were both memorable for the gracious reception by the students.  The students really got the whole package with the 'intro to jazz piano'  master class, and I wish I had more time with them.  Jazz is so foreign, new and also so welcome from these students who prepare so diligently with their majors here.  There is a very large popular music program here, and I need to learn more about it.  The conservatory has 5,000 students.  Below:  raising a glass with Prof. Jiang, faculty, and Consul General Diane Sovereign.