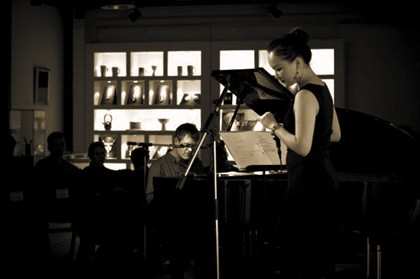 At Two Cities Gallery in Moganshan Lu, I stopped by to hear vocalist Jasmine Chen and my friend  pianist Steve Sweeting on March 28.  The Gallery was jammed, and I couldn't even get close to the stage, but I did get a good idea of just what the performers were aiming for.  It was Shanghai eclecticism at its best.  It had a whiff of Barbara Cook with Wally Harper, the legendary duo of the 80's and 90's, with a relaxed, unhurried walk through thoughtful and unfamiliar repertoire.  Well,  unfamiliar because half of it was composed and written by the performers themselves, including Jasmine's  new lyric for the Paul Desmond classic, Take 5.   Jasmine sings with a calm and pure understatement that allows the song to speak for itself. The audience loved this performance.
PROGRAM
莫愁湖边走 Mo chou hu bian zou:  Describes  Mo Chou Lake, (Chinese: "don't be sad and worried,")  the writer is  walking by the lake, where everything is beautiful and where one may forget sadness.


 山歌好比春江水 Shan ge hao bi chun jiang shui:  A folk song,describing how happy the people are while  singing, just like the river in spring.
 戏说戏     Take 5    (lyric: Jasmine Chen) is about life as a drama, people are personifying themselves…and others. 
抒情华尔兹
Rosa       (lyric: Jasmine Chen) an  expression of her personal feelings while performing.  The author finds strength as singing brings happiness and confidence in life itself. 
爱如此深  
So in love  
在彩虹的那一端 Over the rainbow
越看越喜欢 The more I see you
你说,你说,你说

Perhaps, perhaps, perhaps/You tell me, you tell me, you tell me
(Chinese lyric by Jasmine Chen) He doesn't love me anymore,but he won't  say it.  I only wish  he would tell me face to face.
 选择 Choices
纯净幻想 Pure Imagination
Yaya boogie(music by steve)
something jobim(music by steve)
busy,busy,busy

  爱情的颜色 The Colour of Love (by Steve Sweeting, Jasmine Chen)  
ENGLISH TRANSLATION:
What is the color of love?
I can not say. 
Red, gray or blue?
I am confused,
I ask you softly, darling.
Can you tell me?
You say our love
is the color of the sea.
That moment the ocean meets the sky,
is just like you and I.
Although there may be storms,
our gray will not last for long.
Every moment, the color of love changes,
like clouds above us.
We pass through sparkling red,
into blue happiness.
Even in white cold silence,
is it anyone to blame?
If we still have our dreams, we'll hold hands 
and experience all these colors of love.