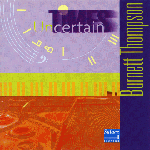 Uncertain Times
Burnett Thompson, pianist
Click here for Complete Reviews
1.  Prelude to a Kiss			
	Ellington/Gordon
2.  Over the Rainbow
	Arlen/Harburg
3.  Uncertain Times: Part I--Romance
	Burnett Thompson
4.  How Long Has This Been Going On
	Gershwin
5.  Let's Do It (Let's Fall in Love)
	Porter
6.  Aboard the Lucy Allen
	Burnett Thompson
7.  Somebody Loves Me
	Gershwin/Ballantine
8.  All of You
	Porter
9.  Moten Swing
	Moten
10.  Uncertain Times:  Part II--Precious Memory
	Burnett Thompson
11.  You Do Something to Me
	Porter
12.  My heart Belongs to Daddy
	Porter
13.   As Time Goes By
	Hupfeld
14.  Uncertain Times:  Part III--Toccata and Chorale
	Burnett Thompson
15. Waltz in Ab Major
	Chopin
16.  It Ain't Necessarily So
	Gershwin
17.  And So it Goes
	Billy Joel



Produced by Burnett Thompson 
Recording Engineer: Louis Scherr 
Piano: Steinway 
Recorded at Warm Valley Studio, Washington, DC 
August, 1994
Photography & Design: Chris Lozos 

all rights reserved 
Unauthorized duplication is prohibited and in violation of  
applicable laws.