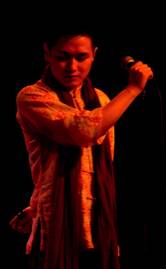 Shanghai Jazz in Washington
Shanghai Jazz stars Coco Zhao, vocalist, and Peng Fei, violinist and arranger, arrive in Washington, DC to appear at the Kennedy Center for the Performing Arts, Jazz on Jackson Place at Decatur House. Espousing a decidedly progressive form of jazz, but steeped in Chinese culture, these two figures promise to bring an experience to Washington listeners that will be a real ear opener.

With other Shanghai based performers, Coco and Fei lead Possicobilities. Deeply rooted in Shanghai jazz, a history which began in the 1920's in Shanghai, Possicobilities is an electrifying ensemble that blends two powerful cultures.
The Calendar
Sunday, July 29, 2007, 5:20 p.m. Washington, D.C. Coco Zhao and Peng Fei will be the on-air guests of jazz historian Larry Appelbaum on WPFW radio.

Wednesday, August 1, 2007: Kennedy Center for the Performing Arts, 6:00 p.m. With the Burnett Thompson Trio. Watch this concert in archive at : the Kennedy Center

Thursday, August 2, 2007: Jazz on Jackson Place 6:30 to 8:30 p.m. Food, wine, music in front of the White House. With the Burnett Thompson Trio

Thurs. Aug. 16, 2007 John Ydstie interviews Coco and Peng Fei at National Public Radio. Hear the interview and live performance with Coco, Peng Fei and pianist Burnett Thompson.
Resources

I Want Your Love from Dream Situation
Reviews of the CD, Dream Situation
Purchase the CD's at Artist Direct
Read all about Coco Zhao
Read all about Peng Fei
"Coco's kid-glove, mellifluous vocalese is supported by a group of remarkable musicians?/i>
–Six Degrees of Jazz