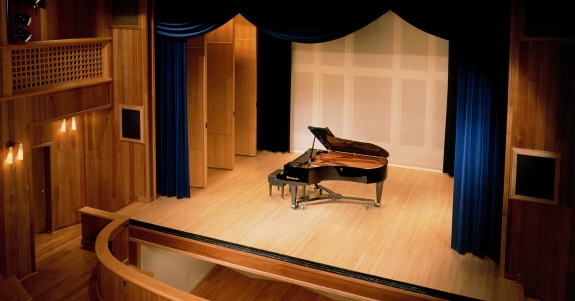 Burnett Thompson at Castleton Theatre
The Performances
Nov. 11, 2012, 3:00 p.m.: Shanghai's illustrious jazz singer Le Zhang performs My Love is as a Fever: the Shakespeare Sonnet Song Cycle. Composed by Burnett Thompson, this work will be sung in Mandarin and English with surtitles. Le Zhang will be assisted by the Burnett Thompson Jazz Quintet and erhu soloist Jin Ruo Wei. The work was premiered in Shanghai on April 29, 2011 and may be viewed HERE
Sunday, Oct. 1, 2006 Erhu virtuoso Ma Xiaohui, and pianist Burnett Thompson in concert at the Theatre at Castleton. Music of Liu Tianhua, Abing, Kreisler, Bartok, Maazel.
Sunday, Jan. 15, 2006 The Theatre at Castleton A screening of "Nosferatu", the original silent vampire classic by F.W. Murnau. Burnett Thompson performs an original score at the piano.
Jazz at Castleton, Saturday, Nov. 20, 1999 .
The Burnett Thompson Quintet and vocalist Debra Tidwell: music of Maazel, Ellington, Monk, and Thompson.
Concerts at Castleton, Sunday, Oct. 17, 1999 .
Han-Na Chang, cellist; Burnett Thompson, pianist: Beethoven Sonata for Cello and Piano #4 in C major, Saint-Saens, Tchaikovsky, Rachmaninoff.
1999 José Carreras with The Castleton Philharmonic Orchestra (Gala benefit under the Patronage of Her Royal Highness, the Queen of Spain). Burnett Thompson, orchestra manager and pianist.