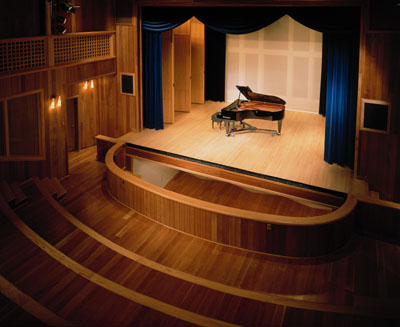 Burnett Thompson, Director of Programming
2016-2017 Season
View 2014-2015 roster
View 2015-2016 roster
View 2016-2017 roster
View 2017-2018 roster
Shannon Gunn and the Bullettes
Sunday, Sept. 20, 2015 at 4:00 pm
TICKETS
Shannon Gunn and the Bullettes Jazz Orchestra are steeped in the tradition of the masters but forging ahead with a style all their own. An all-star, all-women jazz orchestra based out of the D.C. area, they are laid back but hard swinging, bringing all generations together to enjoy a dynamite performance. The Bullettes began as a "dream" of Shannon Gunn, trombone player and graduate of the George Mason University Masters in Jazz Studies program. Since their first CD release, the Bullettes have continued to wow audiences and perform swing, originals, and straight ahead jazz charts for audiences young and old.
Watch Shannon Gunn & the Bullettes

Toy Pianist Margaret Leng Tan
Sunday, Oct. 11, 2015 at 4:00 pm
TICKETS
Margaret Leng Tan, the "queen of the toy piano" (The New York Times), performs on toy pianos and all manner of toy instruments, from bicycle bells to a hand-cranked music box. Who would have thought toys had such potential? Margaret treats them as real instruments, in keeping with the French avant-garde artist Marcel Duchamp's statement, "poor tools require better skills." She also fulfills her mentor John Cage's long-standing conviction that one can make music on just about any object capable of producing sound. Suitable for ages 8 to 108
Watch Margaret Leng Tan live on Youtube
Smithsonian Jazz Masterworks Orchestra
Sunday, Nov. 8, 2015 at 4:00 pm
TICKETS
Ellington biographer John Hasse is joined by members of the Smithsonian Jazz Masterworks Orchestra for a deep look into the life, times, and music of Duke Ellington. Dr. Hasse is the founder of the SJMO, and Curator of American Music at the Smithsonian.

U.S. Navy Commodores Jazz Orchestra
Sunday, Dec. 6, 2015 at 4:00 pm
RESERVE TICKETS
The premier jazz ensemble of the United States Navy brings Duke Ellington and Billy Strayhorn's arrangement of Tchaikovsky's Nutcracker, remarkable for its reimagining of the iconic ballet suite. The band will fill out the program with additional holiday and big band favorites. This will be a splendid evening to celebrate the holidays. Free, but reservations are required.
Linn Barnes & Allison Hampton
Sunday, Dec. 20, 2015 at 4:00 pm
RESERVE TICKETS
Described by The Washington Post as "a Washington institution...", Linn Barnes and Allison Hampton's rare combination of styles and instrumentation serves to create concerts and recordings, which are multidimensional and accessible to a wide variety of audiences. TICKETS

Bandoneon Virtuoso JP Jofre
Sunday, February 21, 2016
TICKETS
Argentina native JP Jofre has placed his own personal stamp on tango tradition, is frequently featured in the New York Times and has been a headliner in countless concerts throughout the U.S., Europe, South America, and Taiwan. JP is a regular at the Metropolitan Museum of Art performance series, at Spectrum, and with the New York City Ballet. He has appeared with numerous orchestras as featured performer, and has become a mainstay of the New York world music scene. JP Jofre plays the "AA" bandoneon by BandionFabrik Klingenthal.
Watch JP Jofre: In Concert


Virginia Commision on the Arts
SUNDAY, MARCH 20, 2016 AT 4:00 p.m.

Welcome to the Guitarists/songwriters Wayne Henderson & Helen White. Wayne Henderson is a National Heritage Award recipient honored as a luthier and renowned finger-style Appalachian guitar playing. Influenced by friends and neighbors, Doc Watson and EC Ball, Wayne has toured broadly in the U.S., Asia, Africa, and the Middle East showcasing his lightening fast, articulate playing. He's also a storyteller! Singer, fiddler, and tunesmith, Helen White has toured extensively with Wayne in the U.S. and Europe. Her compositions include works for theater and video projects and a Booklist honored recording for children. Helen founded and served as Executive Director of the Junior Appalachian Musicians (JAM) program for 15 years. TICKETS

PostClassical Ensemble
The Music of Bernard Hermann
Sunday, April 17, 2016 at 4:00 pm
TICKETS
The films of Alfred Hitchcock were infinitely enhanced by the music of Bernard Herrmann. This performance will feature clips from "Vertigo" and "Psycho". The program includes the Clarinet Quintet, Sinfonietta for Strings, and Psycho: A Symphonic Narrative. PostClassical Ensemble, led by artistic directors Angel Gil-Ordonez and Joseph Horowitz is an innovator in the classical music scene: "PostClassical Ensemble never met a musical convention it didn't want to smash" The Washington Post

Keyboard Charitable Trust
Piano Recital
Sunday, May 15, 2016 at 4:00 pm
TICKETS
Russian concert pianist Sergey Tukachev is a veteran of several competitions and is currently a masters student at the Central Music Academy in Moscow. Mr. Tukachev won First Prize for both solo and chamber music in the '21st Century Art' competition in 2013 in Vorzel, Ukraine won diplomas in 2009 and 2012 in the 'Put k Masterstvu' Competition in Moscow. In 2014 he won a special prize for performance of works by Liszt at the Third Verona International Piano Competition. Tukachev has given numerous concerts in Moscow where he currently resides. Mr. Tukachev is presented by the Keyboard Charitable Trust.