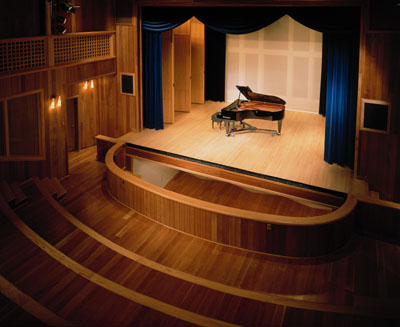 Burnett Thompson, Director of Programming
2018-2019 Season
View 2014-2015 roster
View 2015-2016 roster
View 2016-2017 roster
View 2017-2018 roster
PIANISTS JENNY LIN & URI CAINE
Sunday, October 9, 2016 at 4:00 pm
TICKETS
A Two-Steinway concert featuring two of the biggest stars of the jazz and new music scenes. Jenny and Uri link classical, modern, and jazz traditions, including impromptu improvisation on established classical literature and eclectic repertoire.
Jenny Lin: "a gift for melodic flow" The New York Times
Uri Caine: "Surprise is at the core of Mr. Caine's aesthetic" The New York Times
Pianos and support provided by Steinway Piano

SMITHSONIAN JAZZ MASTERWORKS ORCHESTRA
Sunday, Nov. 6, 2016 at 4:00 pm
TICKETS
Historian John Hasse is joined by members of the Smithsonian Jazz Masterworks Orchestra for a deep look into the life, times, and music of Miles Davis. Dr. Hasse is the founder of the SJMO, and Curator of American Music at the Smithsonian.

LINN BARNES & ALLISON HAMPTON
With flautist Joseph Cunliffe and percussionist Steve Bloom
Saturday, Dec. 17, 2016 at 4:00 pm
TICKETS
Described by The Washington Post as "a Washington institution...", Linn Barnes and Allison Hampton's rare combination of styles and instrumentation serves to create concerts and recordings, which are multidimensional and accessible to a wide variety of audiences.

JOHN HARDY: RATTLESNAKE
Sunday, February 12, 2017 at 4:00 pm
TICKETS
Actor/Playwright John Hardy performs his one-man show, Rattlesnake, a virtuoso tour-de-force comprised of 16 different characters over a time period of thirty years. The play is set in western Texas and Paris, France. Rattlesnake is unlike anything you have ever seen and, at the same time, easily understood, appreciated and thoroughly enjoyed by first-time theatre goers.
DEANDRE SIMMONS: DIE WINTERREISE
Sunday, March 19, 2017 at 4:00 pm
TICKETS
Operatic bass vocalist DeAndre Simmons performs Franz Schubert's epic song cycle Die Winterreise with pianist Robert Cassicy. Mr. Simmons is quickly gaining recognition for his velvety voice, incisive musicianship, and captivating stage presence. He has already performed successfully with several companies and symphony orchestras including The Philadelphia Orchestra, Opera Company of Philadelphia, Los Angeles Philharmonic, Columbia Pro Cantare, Curtis Opera Theatre, Collegiate Chorale of New York, Opera Panama, Bohème Opera of New Jersey, The Kansas City Symphony, Santa Barbara Symphony, and the Castleton Festival under Maestro Lorin Maazel.
KEYBOARD CHARITABLE TRUST
Pianist to be Announced
Sunday, May 21, 2017 at 4:00 pm
TICKETS
The Keyboard Charitable Trust's mission is to help young pianists reduce the element of chance in building a professional musical career. For the most gifted, this means débuts in London, New York, Mexico, Berlin, Rome and other music capitals. Over the past twenty-five years, the Trust has presented well over 200 young international pianists, historic keyboard players and organists (aged 18-30) in concerts worldwide. With such notable musicians as the late Claudio Abbado and Alfred Brendel among its trustees, this formula has proved its worth.
AMERICAN CHAMBER PLAYERS
Sunday, June 4, 2017 at 4:00 pm
TICKETS
American Chamber Players founder and violist Miles Hoffman is known to American audiences from his erudite commentary on National Public Radio's Morning Edition. Mr. Hoffman is joined by flautist Sarah Stern, Joanna Maurer, violin, guest artist Anna Stoytcheva, piano and Castleton favorite Inbal Segev, cello.

"They have established standards of chamber music performance equal to any in the world," The Washington Post

"They appealed to the heart and the head, offering a warm, seductively luxurious sound and an impressive precision and unity of purpose." The New York Times




CHORAL FESTIVAL CONCERT
Sunday, July 2, 2017 at 4:00 pm
TICKETS
Classical Movements is a premier concert tour company for the world's great professional symphony orchestras and choirs, as well as youth orchestras, universities and conservatories. Classical Movements works in 144 countries and has become the leader in understanding the needs of quality music performance groups since their inception in 1992, arranging exciting, meaningful and life changing choir tours and orchestra tours. In addition, Classical Movements also regularly commissions new music and produces four International Choral Festivals as well as an International Young Artist Opera and Orchestral Festival.