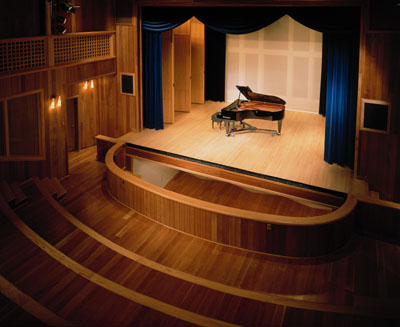 Burnett Thompson, Director of Programming
2017-2018 Season
View 2014-2015 roster
View 2015-2016 roster
View 2016-2017 roster
PIANIST MARIAM BATSASHVILI
Sunday, October 15, 2017 at 4:00 pm
TICKETS
Castleton in Performance presents the acclaimed young Georgian virtuoso Mariam Batsashvili, one of the most promising young pianists of her generation. She gained international recognition as first prize winner at the 2014 Franz Liszt Piano Competition in Utrecht.

"A Thousand great moments… Batsashvili creates a dark poetry, which always feels natural and accurate."- Süddeutsche Zeitung

This concert is provided with support from the Keyboard Charitable Trust

SMITHSONIAN JAZZ MASTERWORKS ORCHESTRA
Sunday, Nov. 5, 2017 at 4:00 pm
TICKETS
The great jazz vocalist Sharón joins historian John Hasse and members of the Smithsonian Jazz Masterworks Orchestra for a deep look into the life, times, and music of Ella Fitzgerald in her centennial year. Dr. Hasse is the founder of the SJMO, and Curator of American Music at the Smithsonian.

JOHN HARDY: A CHRISTMAS CAROL
Sunday, December 3, 2017 at 4:00 pm
TICKETS
John Hardy returns to Castleton to perform a one-man rendition of Charles Dicken's classic holiday tale. Adapted from the original Dickens novel, this Castleton in Performance holiday show portrays Hardy in more than 40 roles, telling the timeless story of Ebenezer Scrooge and his Christmas journey of self-discovery. From the beginning of the play through the end, Hardy never changes costume or leaves the stage, portraying all 40 characters through variations in accent and speech pattern, as well as physical traits.

" a stunning work of theatrical virtuosity...it will be as if you are seeing it for the first time". The Albuquerque Journal

LINN BARNES & ALLISON HAMPTON
With flautist Joseph Cunliffe and percussionist Steve Bloom
Sunday, Dec. 17, 2017 at 4:00 pm
TICKETS
Described by The Washington Post as "a Washington institution...", Linn Barnes and Allison Hampton's rare combination of styles and instrumentation serves to create concerts and recordings, which are multidimensional and accessible to a wide variety of audiences.

Tyler NELSON, TENOR
SONGS FROM VIENNA AND PARIS
Saturday, March 10, 2018 at 7:00 pm
TICKETS
Rainer Maria Rilke and the Shadow of Auguste Rodin
Dietlinde Turban Maazel, narrator
Rachel Corbett, author

Austrian poet Rainer Maria Rilke and the great French sculptor Auguste Rodin developed an unlikely collaboration and friendship that set the stage for a conversation about Parisian and Viennese culture at the arrival of the year 1900. Tyler Nelson, a favorite of Maestro Lorin Maazel, performs poems of Rilke and Baudelaire set to music by Alma Mahler, Anton Webern, Claude Debussy, & Paul Hindemith. These works offer an intimate look into the literature, art, and music of this magnificent epoch in European history.



CASTLETON GUITAR FESTIVAL
Guitarists Wayne Henderson, Steve Herberman, Tom Principato
Master Classes: Saturday, April 10, 2:00 to 5:00 p.m.
Concert: 7:00pm
TICKETS

Bluegrass guitarists/songwriters Wayne Henderson & Helen White are joined by jazz great Steve Herberman and blues master Tom Principato for the first annual Castleton Guitar Festival.. Wayne Henderson is a National Heritage Award recipient honored as a luthier and renowned finger-style Appalachian guitar playing. Influenced by friends and neighbors, Doc Watson and EC Ball, Wayne has toured broadly in the U.S., Asia, Africa, and the Middle East showcasing his lightening fast, articulate playing.
Singer, fiddler, and tunesmith, Helen White has toured extensively with Wayne in the U.S. and Europe. Her compositions include works for theater and video projects and a Booklist honored recording for children.
Steve Herberman plays a pivotal role in the DC jazz scene, performing with countless artists and ensembles.
Tom Principato has a worldwide audience, and a long association with major blues artists throughout the U.S.

BASSIST ALEX BLAKE
Saturday, May 12, 2018 at 7:00 pm
TICKETS
Alex Blake has a revolutionary playing style and technique distinctly his own. He combines innovative strumming, rapid lyrical notations and percussive slaps on his bass to create a unique and compelling sound. Alex Blake's talent is measured by the plenitude of masters who have called upon him: Dizzy Gillespie, Sonny Rollins, Sun Ra, Art Blakey, Freddie Hubbard, McCoy Tyner, Lenny White, Stan Getz, Harry Belafonte, and the Manhattan Transfer. Alex is a long-time member of NEA Jazz Master Randy Weston's African Rhythms. Alex will be joined by the remarkable young pianist Yoichi Uzeki

"incredible virtuosity combined with inventive musicality in a fashion that was stunningly entertaining." The Los Angeles Times

Watch Alex Blake Live at the Blue Note

AMERICAN CHAMBER PLAYERS
Sunday, June 3, 2018 at 4:00 pm
TICKETS
American Chamber Players founder and violist Miles Hoffman is known to American audiences from his erudite commentary on National Public Radio's Morning Edition. Mr. Hoffman is joined by flautist Sarah Stern, Joanna Maurer, violin, guest artist Anna Stoytcheva, piano and Castleton favorite Inbal Segev, cello.

"They have established standards of chamber music performance equal to any in the world," The Washington Post

"They appealed to the heart and the head, offering a warm, seductively luxurious sound and an impressive precision and unity of purpose." The New York Times




CHORAL FESTIVAL CONCERT
Sunday, June 30, 2018 at 4:00 pm
TICKETS
Classical Movements is a premier concert tour company for the world's great professional symphony orchestras and choirs, as well as youth orchestras, universities and conservatories. Classical Movements works in 144 countries and has become the leader in understanding the needs of quality music performance groups since their inception in 1992, arranging exciting, meaningful and life changing choir tours and orchestra tours. In addition, Classical Movements also regularly commissions new music and produces four International Choral Festivals as well as an International Young Artist Opera and Orchestral Festival.